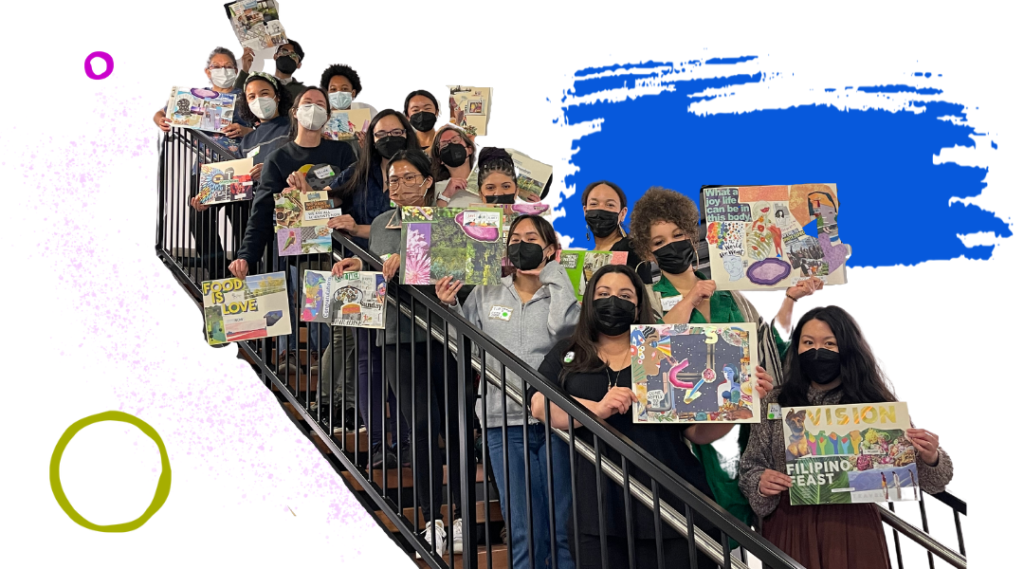 By Pj Bergstrom
December 2021
The past year has provided us with many learning opportunities – some welcomed, and others hesitantly accepted. A shared (and individually nuanced) global experience that undoubtedly assured everyone—change is the only constant. When we choose to embrace this mentality, we open doors to worlds that are ready to be reimagined and rebuilt. Seattle Works is no stranger to change after navigating massive structural, cultural, and staff shifts over the past few years (detailed here and here) that did not subside in 2021. While the unknown can be daunting, it must be navigated with patience, intention, and curiosity. Seattle Works embarked on an exciting journey this year to align our organizational language with our values of anti-racism and an engaged community. As of August 2021, we follow our new mission statement:
We invest in collective liberation through transformative community building and through anti-oppression education, actionable trainings, and resource mobilization.
This shift to collective justice, rather than volunteerism, stems from the intention to serve our community and social movements for greater systemic change.
What is collective liberation and collectivism?
We believe that volunteerism is often rooted in colonial practices and contributes to transactional relationships rather than authentic, transformative community building. Some of these sentiments can be read in our piece, "What Diversity Gap in Volunteering?" featured in Civic Life Today by Points of Light. Volunteerism is steeped in white supremacy norms and capitalist structures; typically, opportunities are temporary and extractive, favoring those with social privilege which perpetuates harm and a white savior complex. We are choosing to embrace collectivism as it serves the communities, organizations, and movements that are building change.
How did we get here?
32 years ago, a group of people in their twenties had a vision to create an organization focused on "giving back". Through fundraising parties, to volleyball tournaments, and programs rooted in volunteerism that came and went; each generation of Seattle Works engaged in local impact and relationship building. At its core, our small and mighty organization has always listened to community, taken their needs seriously, and adapted to respond accordingly. We are adamant believers in responding to community needs through active listening, thoughtful collaboration, and action. In recent years we have interrogated how issues pertaining to race, power, and privilege have manifested at Seattle Works; we listened and embarked on redefining volunteerism within our organization and Seattle at large.
To shift the general approach to volunteering, Seattle Works *massively* changed our role in the community. We revised our programming, increased advocacy efforts in communications, integrated antiracism education in all facets (internal and external) and became aware that our mission, vision, and values were not reflecting this adapting work. With my leadership, and support from the team, we began this shift by first hiring a beloved community member and friend of the organization, Kirsten Harris-Talley of In the Works LLC. We knew this work required outside facilitation from someone rooted in our values of belonging, antiracism, and a collective mindset. Nearly 13+ hours later in zoom rooms with board members (shout out to our dedicated board!) and Kirsten, we had a unified vision for Seattle Works' shared language and future.
We are now envisioning a greater Seattle area where liberated individuals are engaged in community, systems of oppression are dismantled, and human-centered structures are prioritized.
Where do we go from here?
We will continue to do what we know best: fostering human-centered, transformative community connections for learning, resource sharing, and joy. Here are a few highlights from our past year that reflect where we've been and where we're headed:
Agents of Change completed its FIRST full year of Spring and Fall cohorts, which means to date we have had 400+ applicants representing over 250 organizations and companies, and 90 AoC alumni influencing their communities with an anti-racist lens. AND we are kicking off 2022 with our first custom AoC for the WSA Parent Ambassadors program, an eager group of community members ready to lead advocacy campaigns with an anti-racist lens.
In October, we welcomed on an entirely new board of eight *incredible* community members.
We are being recognized for our transformative approach to volunteerism and were featured in Points of Light's Civic Life Today, read "What Diversity Gap in Volunteering?".
The Bridge Board training is evolving and taking a pause to reflect on integrating anti-racism throughout its curriculum. In 2021, we trained 100+ participants to dismantle archaic board structures and currently prepping to provide Starbucks employees with custom Bridges!
All our 2019-2021 strategic priorities were completed – stay tuned for our next set of multi-year goals.
While we celebrate these wins, and ground ourselves in our new organizational language, we will also continue to embrace reimagining and challenging history and habit at Seattle Works.
Thank you for embracing the unknown with us and supporting our collective journey.