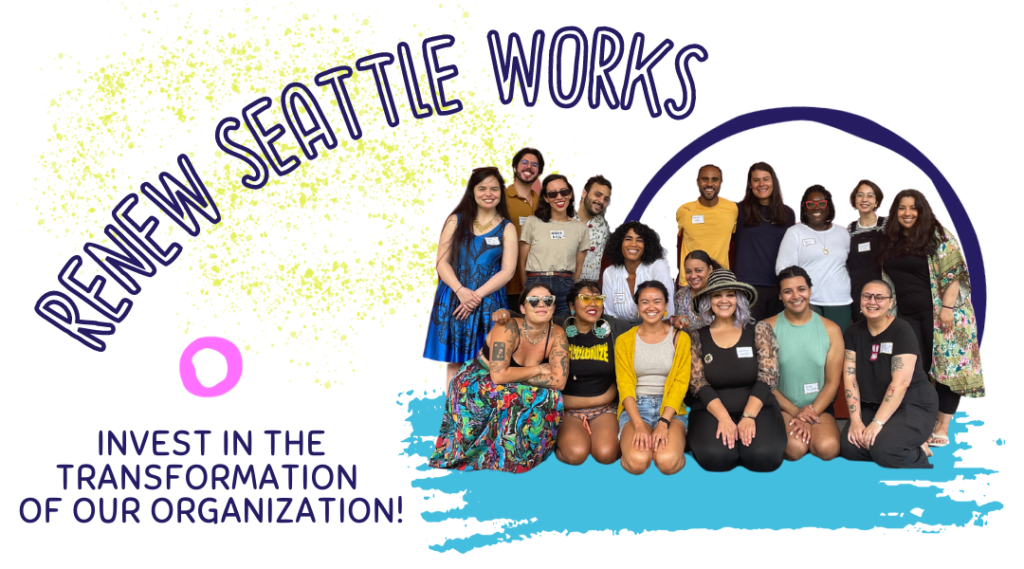 Dear Seattle Works community,
We really need your support. Over the last three years, our organization has enacted significant changes to better align with our shift to collective liberation and capacity building work. A few highlights have been integrating a distributed leadership staff model, rewriting our mission, vision, and values, dropping core programming, launching new ones, hiring new staff, instituting a new board of directors, launching a new website with updated visual identity, and collaborating with countless community members of similar work. We are the most grounded in our mission than ever before and embracing this renewal with excitement. All of this growth, a million times over, is thanks to our community.
For us, community has always been symbiotic in that we show up for each other as listeners, learners, and dismantlers. The transformation of Seattle Works is possible due to hard conversations rooted in care — which is how we carry out our educational and affinity spaces. In our programs, we constantly witness the breadth of emotion, connection, and joy that comes with the often exhausting and heartbreaking nature of the work. Through community, we build power. We are hoping that the strength of our circles will support us to continue our work towards collective liberation.
Our impact begins with the individual through micro impact and connection, which leads to macro shifts and relationships, culminating in systems-wide change. Our programs provide actionable learning, tools, and confidence-building alongside authentic community-building for people to institute anti-oppressive practices in their organizations and personal lives. Below are some quotes from our community members on how their experiences with us have shaped their impact,
"I have already pushed for every member of my organization's team to apply for this program. This experience is filled with light, bravery, and hope. I've learned that everyone has a responsibility to dismantle racism — and your journey can begin wherever you are at. I feel that I am leaving the program stronger, wiser, and ready to have a more active part in our unified fight for equity."

— Mikala Lain (she/they), Agents of Change participant
"These discussions have gone beyond the antiracism books I've read in terms of more specific ways a white person can perpetuate racism and provides great suggestions for actionable change."

— Madeleine Cole (she/her), White Caucus participant
"My favorite part about Link-Up has been being able to network with and gather with other BIPOC leaders in Seattle, from home that has led me not to question my position in leadership and also allowed me the opportunity to resource share and learn about community moving forward and feel more connected."

—Kalisto 'Listo" Zenda Nanen (he/ze/they), BIPOC Link-Up participant
While we are the most grounded in our mission than ever before, entirely rebuilding an organization requires significant time, resources, staff capacity, and money. At this pivotal moment, Seattle Works embraces this renewal while leaning into vulnerable transparency. As we cross the finish line with solidified core programming and updated organizational identity, we are in major need of your support.
Your contribution keeps our dreams of dismantling systems of oppression across the nonprofit sector, and beyond, possible. We are asking you to give today to support our community and reach the $75,000 goal of our Renew Seattle Works campaign.