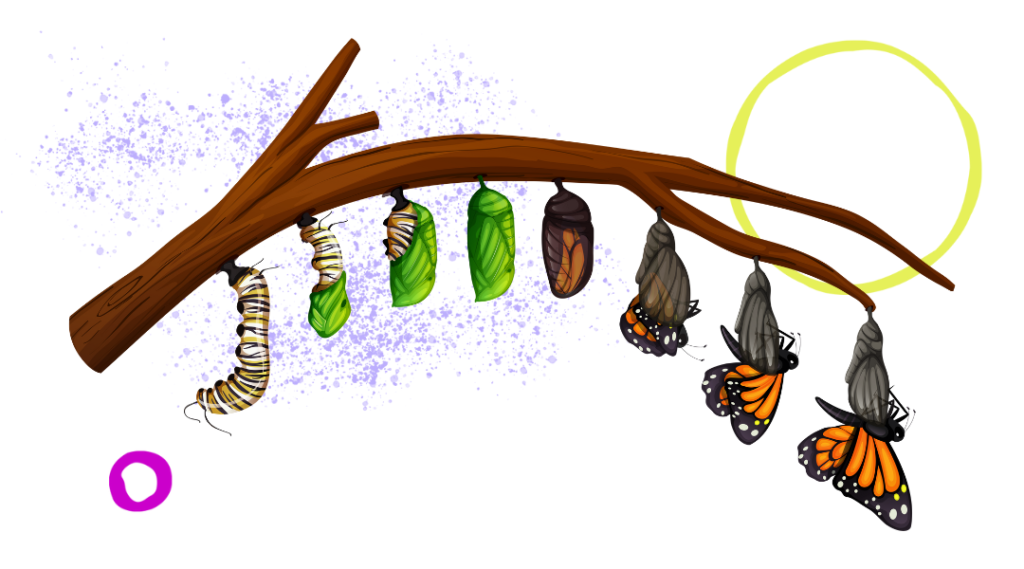 By Pj Bergstrom
May 2023
The past few years have reminded the world that challenge and change emerge new solutions and adaptations. In the context of global change and restructuring, our organization has been in its own process of removing old internal institutions and structures to build a new organization centered in anti-oppression and antiracist practices. To understand how we're evolving, we also need to talk about where we've been. This is our story.
1989 – Origin and Initial Formations
During a year of major political turmoil and revolution, a group of twenty somethings in Seattle formed a collective focused on local volunteerism. They coined themselves "The Benefit Gang" and were composed of mostly white people from middle to high socioeconomic status. At their core was a love and excitement to "give back" to the city and they primarily worked with public schools. Over the years, Seattle Works took on many forms centered in community volunteerism until they found their footing as a registered nonprofit. Their eclectic formation facilitated lots of community building and the small, but mighty, organization made waves in volunteer-based projects. A few decades later, Seattle Works would begin to examine its foundations in power, privilege, and whiteness to better care for those within the organization.
2015 – Overdue Catalyst for Organizational Change
In response to dialogues around lacking diversity from staff and board members of color, the organization took steps to address internal structures of oppression. With the leadership of the executive director, Seattle Works secured a grant to specifically fund antiracism work. In 2016, they hired equity consultants (Caprice Hollins, Toi Sing Woo, and Kirsten Harris-Talley) and invested time, money, and resources to dismantle systems of oppression within the organization. Read more here about the specifics of these changes from Ben Reuler.
As a result of wide-sweeping internal change, Seattle Works began externally embodying a collective approach with a newly developed systems-change lens. Through programming, we moved away from one-off volunteer opportunities and embraced more long-term actionable learning and community building. Shortly after, the embodiment of community-centered values in our external programming sparked a need for a further evolution of our internal practices.
2020 – The Floodgates of Anti-Oppression Work
The unlearning and dismantling of outdated structures instigated staff to reimagine more organizational systems and power dynamics. As our work externally embraced collectivism, we realized that internally we were not embodying this value for staff. In 2020, we shifted to a distributed leadership structure that consisted of five director-level roles. Each team member stepped into their power and autonomy within a specific role and we operated without an executive director. With more internal changes, came more external shifts.
For the next year, we critically assessed our organizational language, identity, and values. By the end of 2021, we had set the foundations for an *entirely* new nonprofit with updated mission, vision, and values, a brand revamp with a new logo (shoutout Enjoli Izidor), creation of new programs and revamping of old, plans to hire new staff, and an entirely new board of directors to begin in 2022. With these additions, came loss. We said goodbye to some core programs, to Ben Reuler (executive director of six years), to the board members that stayed with us through the turbulence, to long-time supporters of Seattle Works that no longer saw themselves in this new evolution, and to a lot of stability within the organization. We grounded ourselves in the fact that change is the only constant and that when we center our values, we are brought closer to our community and the world we envision.
2023 – From One Evolution to Another
We are now faced with a rebirth of Seattle Works that may be its most beautiful evolution yet. By breaking patterns of old institutions and building new human-centered structures, we are embarking on a renewal of all fronts. Below are some of the changes we've integrated and have planned for the future:
Released our beautifully remodeled website (shoutout Stacy Nguyen) with a new visual identity that reflects our personality and goals more than ever before
Finalized our 2023-2026 strategic priorities

Embody pro-Black principles and actions
Expand program capacity
Embrace storytelling and increased resource mobilization
Evolve community centric fundraising strategies
Enact our rebrand—including a new organization name!

Staff re-integrated hierarchy with a recently hired manager-level position
Launched new programs and major gut check of all core programming

Bridge Board Training is now Evolve Board Training, a series with multiple opportunities to learn about board leadership
White Caucus Cohort commences with a cohort style approach for white people in positions of power to learn, build community, and take action
Agents of Change alumni community kicks off to keep past cohort participants engaged and accountable to their anti-oppression work
As the world around us constantly changes, we commit to listening and adapting to the needs of our staff and community. In the words of Audre Lorde, "revolution is not a one-time event". While we have come this far, our work is never-ending. We are infinitely grateful to those who stuck with us through our journey and for all the new support that has entered amid the changes. Sharing our story is important as we explore where we have been to seed the present toward a liberated future—we eagerly enter this evolution and all that may unfold, together.