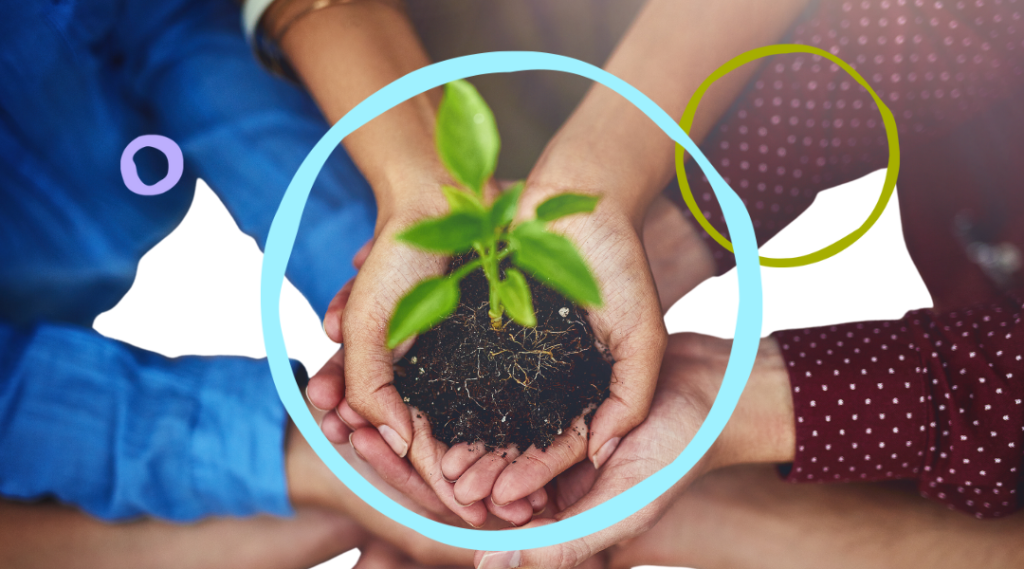 By Pj Bergstrom
August 2023
All too often people share their stories of being burnt out, overworked, and generally frustrated in their jobs. We see this in the nonprofit sector where organizational goals and services are frequently put above the needs of staff. At Seattle Works, we critically assessed our internal culture and invested in creating systems and norms that provide staff with some relief from the far-reaching weight of capitalist expectations.
Building a person-centered workplace requires intentional shifts and often wide-sweeping culture change. Through radical imagination and acceptance, our small organization found approaches and frameworks that fit our needs — but every group will have their own dynamics that require unique solutions. While our approach is not a blueprint for all places of work, we feel it is fundamental to foster communal care and support individual needs. By sharing this multi-tiered story, we hope to plant some seeds for change and lend our individual experience to the collective movement towards liberation.
Over the next few months, in multiple parts, we will share this journey and offer our findings, successes, failures, learning moments, and more. First, we'll share our understanding of integrating a needs-based approach.
What's a needs-based approach?
For us, it means creating a complex weave of multiple truths and needs to support individuals in meeting the demands of the organization. We integrated a needs-based framework after a session with consultant Pamela Taylor of The Circle Works — also an Agents of Change alum and long-time BIPOC Link-Up participant! Pamela worked with us on acknowledging harm, being accountable, and nurturing relationships among staff. From our time together, we realized that explicitly naming a needs-based framework is essential to how we approach organizational expectations, decision-making, interpersonal communication and relationships, and individual role responsibilities.
While this mindset allows us to uplift staff and individual needs, it does not come without hardships and tough moments. We are very familiar with the messiness of collective liberation work — this process reaffirmed that truth. Building structures that are rooted in care, power redistribution, racial justice, and accountability requires immense change, letting go, and innovation. Embracing the unknown often brings fear and anxiety, so we lean into supporting the emergent, adapting needs of staff throughout the bumps and hurdles.
Why is centering individual needs important?
When a group of people come together, in any capacity, they create a culture that is unique to their collective dynamic. This happens with or without intention and can quickly embody and mirror norms of the institutions we exist in. To combat the pervasive nature of capitalist and oppressive influence, we needed to make space for individual needs and wants. Each staff need informs our collective voice and team culture and aids us in acknowledging the disparities and power dynamics that are tied to our intersecting identities.
How do you balance needs?
A major learning lesson for us with a needs-based approach is to lean into radical imagination and creative solutions. By operating from abundance, rather than scarcity, we are able to adopt systems that support us all in our varied needs. We have found that this approach works best when each person is in tune with their individual needs — which asks our staff to bring a level of self-awareness and intention to the workplace. To support this expectation, our needs-based culture aspires to work symbiotically by supporting staff's wellness which in turn supports their capacity for internal healing and hopefully motivates people to curiously look at their individual needs and wants in the workplace. But, creating a space that holds both the individual needs alongside work expectations has been one of the bigger challenges for us.
A point of learning for the team has been the balancing act of people's needs with the needs of Seattle Works. In a world of continuous grief, we understand that staff are often moving through their own process in reaction to personal and collective heartbreak. We are facing daily horrors in the news from climate disaster, racial injustice, transgender oppression, and more — and we hope to provide a gentle and flexible landing space for staff to not add to the pain of these realities. In acknowledging our varied lived experiences in the greater context of American society, we are still finding the harmony in the hierarchy of personal needs and organizational needs. We are excited to learn from community and listen to those have navigated this difficult balancing act.
Upcoming topics in the series:
Redistributing power and dismantling hierarchy
Power and hierarchy coincide to perpetuate systems of oppression for underrepresented communities. In 2020, we significantly shifted our staff structure to redistribute leadership, build power among staff of color, and dismantle hierarchy. Through specific changes, we found a structure that shifts power and uplifts autonomy in our staff.
Emergent staff support
Systems of care for staff must be emergent to real time needs and proactive to prevent burnout. We have instituted multiple systems that are informed by staff needs and work to minimize the weight of capitalist expectations.
Conflict resolution and communication expectations
Conflict is hard, messy, and inevitable. We have tried multiple approaches to moving through conflict with grace — through trial and error, we've found what helps us be direct and honest with communication and feedback.
Restructuring board and staff relationships
The power of boards can be disastrous for staff to push work forward and make decisions. In the wake of a mass overturn of our board, we decided to drastically shift how we interact with and how our board of directors shows up for us.
We are endlessly grateful to share this journey with our community. These stories would not be possible without the guidance and support from like-minded organizations, including Rooted in Vibrant Communities (RVC), CompassPoint, and Communities Rise. There are plenty more incredible groups of people doing this work, and we are honored to be a part of this web that yearns for a liberated future for all.